The youth of Emmanuel are planning their 17th Annual Silent Auction and Dinner for Saturday, February 11 at 5pm.
This year's theme is the 70's decade, "That 70's Auction". Feel free to dress for the occasion. A costume contest will award prizes for best dressed youth and "dude" and "chick"!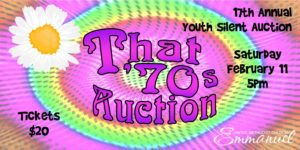 Come enjoy a delicious dinner of beef tenderloin and sides with Chocolate Fondue for dessert, bid on an exciting collection of auction items, and be entertained by The Match Game. By popular demand, our emcee will, again, be Mr. James Fyke.
Your evening will include being surrounded by amazing, 70's inspired decorations and entertainment.
Doors open at 5pm. First serving for dinner is 5:30pm and second serving is 6pm.
We suggest everyone come and browse before you eat and make your bids before the sections close from 6:45pm – 7:30pm.
Tickets are on sale NOW. Reserve your ticket for $20 today. Sign up in your Sunday School room or send an email reservation to Jana janacowan@gmail.com or you can call the church office to reserve your tickets.
Childcare for children age 5 and under will be available that night WITH paid adult reservation[s]. Advance reservations required. Food/drinks/snacks must be provided by parents.
Can't attend but want to support the youth? No problem. You can sign up to be a spirit bidder the same way that you would purchase a ticket. Spirit bids begin at $20 but can exceed that amount!
If you have items to donate for the auction, please contact Susie Palmer palmera@bellsouth.net or Lee Anna Makhloufi makhloufi@bellsouth.net.