Several Sunday School classes will meet together as a change of pace this summer.
Come to Table Talk in the gym each Sunday, July 3 – August 7, at 9:45am. You will have the opportunity to meet members of other Sunday School classes, or if you are not currently in a class, all the more reason to join this unique Sunday School program.
At least 6 Sunday School classes are participating. We'd love to have more. Just meet in the gym on Sunday morning.
We know many of you are not in town all summer, so you are invited to come when you are.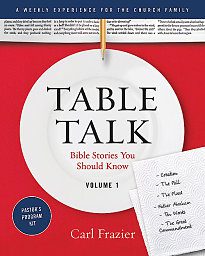 The six-week series is designed to bring all ages together for fellowship and study and to engage in conversation about key stories of the Bible.
The Table Talk curriculum presents the stories of Creation, The Fall, The Flood, Father Abraham, Ten Words, and The Great Commandment.
Table Talk Schedule
July 3  Creation- David Comperry
July 10  The Fall- Stephanie Cross
July 17  The Flood- Judith Craig
July 24  Father Abraham- Mike Hairston
July 31  Ten Words- Linda Gabriel
August 7  The Great Commandment- Leslie Bouldin