Fourth Annual Emmanuel Feeds

The Fourth Annual Emmanuel Feeds event to benefit the Memphis Food Bank will be on Sunday, May 1. Emmanuel Feeds is the whole community coming together to package food for needy families.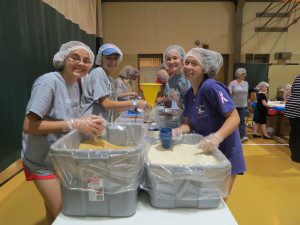 Emmanuel invites anyone that would like to participate to register at the church office at 901-754-6548. During this event, our congregation will come together to have a light lunch after the 11 am service, be trained on how to assemble red beans & rice packages, and then head to the assembly lines for the actual packaging.
If you have participated over the last several years, you know that it's a wonderful time to enjoy fellowship with your EUMC family and friends while helping the food insecure families around our Memphis community. Please make plans to bring your entire family, as this is a fun activity for all ages. Invite your friends and neighbors who are interested in community outreach.
All food packaged will be donated to the Memphis Food Bank and other local relief agencies for local distribution. It costs only $0.25 per meal, and we are attempting to package around 20,000 meals. Every dollar donated will provide a nourishing meal for a family of four. 
We have raised 100% of the needed funds through a combination special offering, money the church has budgeted for this event, and donations from individuals and Sunday School Classes. Thank you for helping us reach our goal.
We are also looking for food donations for the luncheon that precedes the event; if you have any connections that would help us provide food for free or at a reduced cost, please contact minetteprior at comcast dot net.
Volunteer signup sheets will be available in April in Sunday School classes and in the church office. You may also sign up the day of the event, but early notice helps us plan for the right amount of food before the event.
Emmanuel UMC will partner with Memphis Feeds Initiative and Outreach, Inc. [www.outreachprogram.org] which helps source the raw materials and provide the expertise, and the church and community provide the labor and the money for the food.
Outreach is a non-profit corporation located in Union, Iowa, USA. Outreach has Federal Tax Exemption Certification 501 (c) (3). The mission of Outreach is to provide safe water, food, medical care and education to children and those in need at home and abroad.