Many companies offer you the opportunity to support a charitable organization of your chose by just signing up and participating in their program. Then when you make a purchase a portion goes to your charity or non-profit.
Here are three easy ways you can support your church through purchases you are already making.
Kroger Card
You probably already have a Kroger card and when you make a purchase you get gas discounts. You can also enroll in Kroger's Community Rewards program online, and select Emmanuel and Kroger will donate a percentage of every dollar you spend to EUMC. It is free to enroll in this program, and has no impact on your gas points – just free money for our ministry.
Proceeds will go to fund the Room in the Inn (RITI) homeless ministry at the church.
Kroger card owners have to select their not-for-profit of choice each calendar year, so selecting EUMC now will ensure your donations go to EUMC through January of next year.  Remember to re-enroll next January.
Instructions can be found HERE.
Amazon Smile
The second option is through Amazon purchases made through AmazonSmile. To shop at AmazonSmile simply go to smile.amazon.com on your computer or mobile device.
On your first visit to AmazonSmile, you need to select a charitable organization to receive donations from eligible purchases before you begin shopping. Amazon will remember your selection, and then every eligible purchase you make at smile.amazon.com will result in a donation.
Before you purchase make sure the header says Supporting: Emmanuel United Methodist Church. You may also want to add a bookmark to smile.amazon.com to make it even easier to return and start your shopping at AmazonSmile.
More information about AmazonSmile can be found HERE.
You can make a difference through these easy choices.
Emmanuel's Cokesbury Virtual Store
The third option is through our Cokesbury Virtual Store. Emmanuel will earn 5% back from all purchases made through the Cokesbury link we provide here and on our homepage.
If you are purchasing for yourself or your Small Group or Sunday School class, we hope you will use our link so Emmanuel will receive a small percentage for your purchases. This will not affect your costs or purchase price at all.
Be sure to check out our recommendations list based on current studies and/or speakers.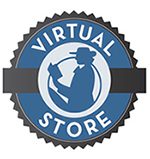 Click on the logo to be taken to our virtual store webpage.