How to make a Good Relationship…Great!
We are planning a Date Night for all adults that want to make a good relationship…Great!
Fight Night: How to Fight Fair is for everyone – newlyweds, "oldyweds," seriously dating, engaged couples…Everyone
Date Night: Fight Night – Friday, March 3 at 6:30pm
Lets' face it, all couples fight.

Learn how to fight a Good Fight
Drs. Les and Leslie Parrott are coming 'virtually' to Emmanuel to present their popular Fight Night program. We will stream the event on the screen in the sanctuary.
Normally, to hear these well-known relationship experts, you would need to travel, creating expenses – transportation costs, hotel, time away from work and family. But we're offering this opportunity to hear new insights and strategies for your relationship, while staying close to home and having a fun Date Night with your significant other.
Are you dating, engaged, newly married, or married for decades?
Whether you fight a little or a lot…
If you're tired of squabbles, quarrels, or knock-down, drag-out fights that assault your love life—
Or if you just want to ensure that they don't happen.
This Date Night will help you turn the most potentially painful moments of your relationship into milestones that mark a deeper joy and a greater passion for each other.
Round One: Why We Fight
Round Two: How to Fight a Good Fight
What you'll learn:
Bridging the Gender Gap in our Fights

Avoiding the Four Red Flags of Conflict

Discover the Surprisingly Effective Conflict Card

Learn the Secret to Keeping a Cool Head and a Warm Heart

How 10 Minutes out of Your Week Will Diminish Conflict
More reasons to attend:
No travel costs

A male-friendly marriage event for couples at any age or stage

One night only! Instead of an entire day or weekend
So bring your friends and make it a "double date".
Join us for a fun event filled with humor, fresh insight, and new strategies for relationships.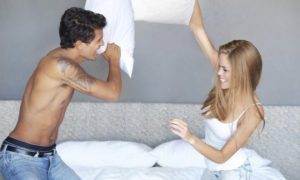 Doorprizes will be awarded.

Popcorn will be served.

Let's have FUN!
Cost
of attendance is $10/couple or $8/person
Limited Nursery is available for 3 years and under by reservation only – first come, first serve – call the church office for reservations 754-6548
This event will encourage couples, increase the outreach potential of our church, strengthen the marriages and relationships of those who attend, and compliment our church's ministry.
Co-hosted by the Emmanuel Education Committee and the Women's Ministry Team.
About Drs. Les and Leslie Parrott
Les and Leslie. A husband-and-wife team who not only share the same name, but the same passion for helping others build healthy relationships. In 1991, the Parrotts founded the Center for Relationship Development on the campus of Seattle Pacific University – a groundbreaking program dedicated to teaching the basics of good relationships.
Married in 1984, the Parrotts bring real-life examples to their speaking platform. Their professional training – Leslie as a marriage and family therapist, and Les as a clinical psychologist – ensures a presentation that is grounded, insightful and cutting-edge.
Each year Les and Leslie speak in over 40 cities. Their audiences include a wide array of venues, from churches to Fortune 500 company board rooms. The Governor of Oklahoma appointed the Parrotts as the first ever statewide Marriage Ambassadors. Authorities have called upon Les and Leslie to provide on-site support in the aftermath of worldwide disasters such as Ground Zero and Chernobyl. The Commander of the 2nd Battalion, 5th Marines, invited them to assist his soldiers with re-entry into family life upon returning from Iraq.
Part of Les and Leslie's vision for building stronger, life-long marriages is to equip a band of more than a million marriage mentors who walk alongside less experienced couples. Research reveals that marriage mentoring is one of the best things we can do to cut the divorce rate and improve marriages – whether couples are engaged, newly married or married of decades.
The Parrotts have been featured in USA Today and the New York Times. Their television appearances include CNN, The View, The O'Reilly Factor, The Today Show and Oprah.
As #1 New York Times best-selling authors, their books have sold over two million copies in more than two dozen languages, and include best-selling and Gold-medallion winner Saving Your Marriage Before It Starts. Other popular titles include Real Relationships, L.O.V.E., The Parent You Want To Be, Trading Places, The Complete Guide To Marriage Mentoring and Love Talk.